Genre: YA, contemporary
My rating: 3/5
Recommended for: 15+, people with young hearts who want to be reminded that life is a gift and to be brave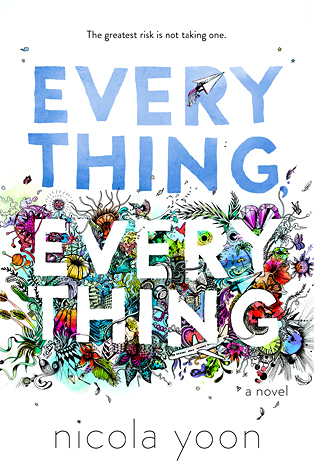 This debut novel by Nicola Yoon revolves around the days of Madeline Whittier, who has an illness that basically keeps her from experiencing the real world. She can't even go out of the house, nor have anyone visit her without them having to go through decontamination! One day, though, a boy clad in black named Oliver moves in next door and, thanks to the technology we have in today's modern world, they fall in love. And then her life changes.
Okay, wow, I didn't think I would like this book so much. Since Maddy had been sick for as long as she could remember, I thought she would be this bitter and angsty teenager yelling "WHY DID THIS UNFAIRNESS HAPPEN TO ME?" But no, she was accepting and pretty positive about the whole situation. I mean, I don't think I'd be able to handle it as well as her. Olly was also wonderful. I sensed so much compassion and depth from the way he carried himself. He listed his sister as his favorite person, for instance! Too bad we didn't get to see much of her.
My favorite character had to be Carla, Maddy's nurse. I think a lot of Maddy's patience came from her. She was like a second mother to Maddy. Yes, they did spend a LOT of time together over the years, but their relationship was so much more than just nurse-and-patient. She was Maddy's friend, her confidante. She was the one who taught Maddy to be brave, and reminded her that life was a gift.
I liked the pacing of this book. Since it was told from Maddy's point of view, I guess it was inevitable that many things went unexplored at the end—like Olly's sister, the fate of his family, etc.—but I understand that those things weren't immediately relevant to the story being told. Most important for me was the relationship Maddy had with her mom, though. I can't say anything about it without spoiling you, but this I can say: this book taught me about moving on, and the value of yourself outside of your family. Although, the thing that happened towards the ending made this would-be four stars to three. I was disappointed, but I also accepted it. This doesn't really make sense to you if you haven't read it, but if you have, I bet you'll know what I'm talking about and have an opinion on it.
All in all, I really enjoyed the journey I took with Maddy and Olly in one sitting. Go give it a try! If you have, let me know if you liked it as much as I did!
Bonus points:
Maddy and Olly's interaction
The PICTURES! Adorableness!
Olly's Fast Five Favorites game